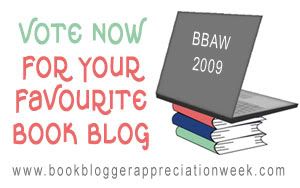 1) What has been one of the highlights of blogging for you?
So many good books . I discovered so many books I would have otherwise missed by reading the many great bloggers out there.

2) What blogger has helped you out with your blog by answering questions, linking to you, or inspiring you?
Bybee at Naked Without Books has always been there for me! I think she was the first to Link to me and she always stops by to visit.

3) What one question do you have about BBAW that someone who participated last year could answer?
Other than giveaways and book tours, how can I get more readers?